Bathroom Panels vs Tiles
Which Is Best For Your Bathroom?
If you're building, renovating or updating a bathroom, your first instinct might be to hit the tile showrooms. But stop: bathroom wall panels may be a far better option, especially for family bathrooms, stress-free decorating, or interior designs that need to be durable. One of the reasons tiles have been the automatic "go to" solution for bathroom home improvement projects, is lack of awareness that panels for this purpose even exist! For other homeowners, there's a misconception that tiles are the only creative option.
If you're decorating a bathroom on a budget, you may also mistakenly believe that removing bathroom tiles makes a change of wall surface too expensive, or too messy.
‍
Let's deal with these issues and myths, and more.
Tiles: advantages and disadvantages
The design and manufacture of bathroom tiles has advanced rapidly, providing homeowners with abundant choice and price ranges. However, the process of installing tiles can be time-consuming and expensive. It's also a tricky task, and in the wrong hands can leave you with a less than perfect surface.
Hands up if you enjoy grouting tiles, or indeed the endless task of cleaning off soap scum or mould between tiles? No matter how expert your tile fitting job, you could face repeatedly having to deep clean tiled areas in your bathroom, to keep them looking good.
Tiles can also become damaged or loose, meaning they have to be replaced. This is especially true in areas of your bathroom which are prone to spillages, splashes or heavy items being dropped.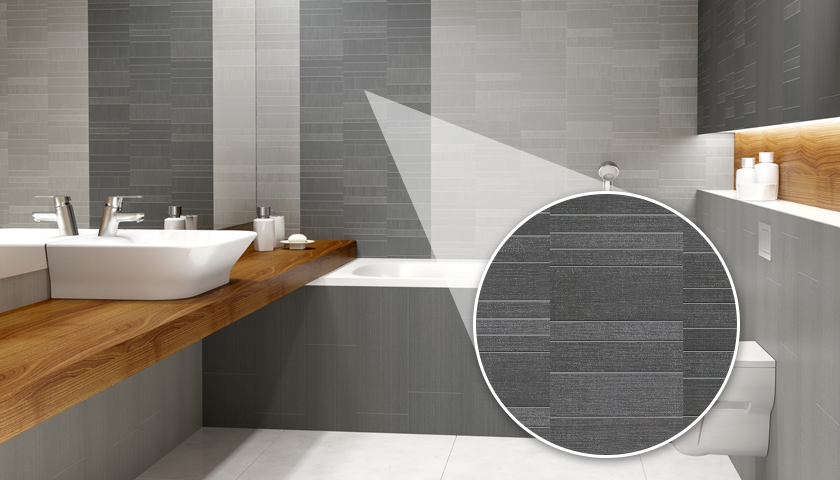 Bathroom panels: advantages and disadvantages
Bathroom wall panels are engineered from 100% waterproof materials. They provide a high degree of hygiene in bathrooms, as they are manufactured from quality components that are mould resistant. They also provide a strong, scratch proof wall surface, even in family bathrooms that can get a hammering!
With panels, it's possible to change your bathroom décor quickly and inexpensively, making them doubly attractive as a bathroom wall idea.
Though bathroom wall panels don't have the same vast range of design options, just like tiles they offer a high degree of creativity and personal choice. This includes, for example, marble or stone effect, woodgrain, satin or gloss white and even mosaic patterns.
‍
Clearly, bathroom wall panels are an aesthetically pleasing alternative to tiles, as well as "boxing off" all the benefits listed above!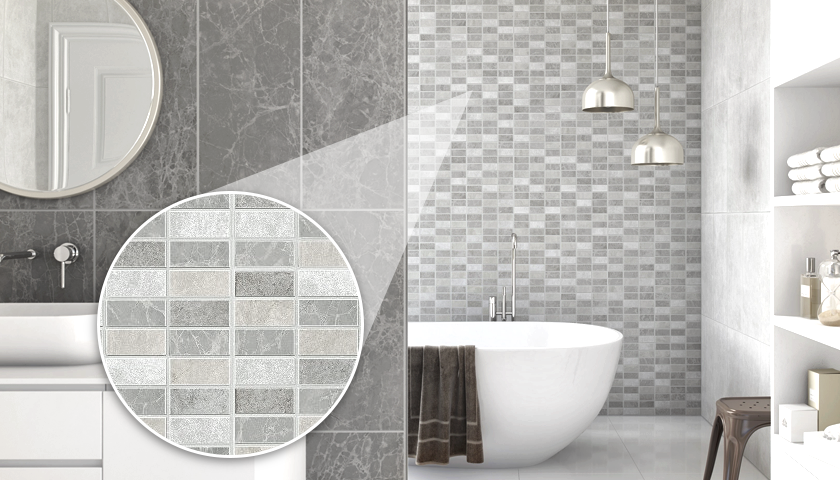 How easy is it to fit bathroom panels?
Having pointed out how problematic and costly tile installation is, it seems worth emphasising the simplicity of using bathroom wall panels as an alternative, not least as it's possible to fix panels securely in place on top of existing tiled walls, making it an even quicker home improvement solution. Incidentally, if you do decide to remove the tiles first, smashing them off is quicker and cheaper than painstakingly installing them!
For this great bathroom idea, simply measure your wall then buy panels of sufficient size. They are designed to fit together quickly and seamlessly – usually employing a tongue and groove system.
Panels can then be fixed to the wall in a highly reliable manner.
Such is the simplicity of their installation, it's a straight forward DIY project. Not least as you can buy wall panel kits containing all the quality joints, trims, fixings, adhesives and sealants you need. Moisture and foreign materials can be wiped off easily and quickly, and your bathroom panels will stand the test of time.
‍
In fact, you will be "en-tile-y" happy with the result!